School Programmes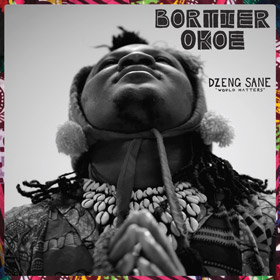 NEW ALBUM
Intricate rhythms blend traditional kpalogo drums, djembe, kora, and balafone with exciting vocals, guitar riffs, and horn lines, creating a new musical force – a sound which connects him with his audiences and inspires even the most reserved listener to get up and dance and sing along.
Click here for more information
"Just wanted to thank you for a fantastic experience on Tuesday. We were ALL just thrilled with the workshop – it was fabulous. The children, carers and those of us from the office were joined in a morning of pure joy and we all got so much out of it on so many different levels.
You made us feel like one big family!!!"
Lyn Kerr
Family Day Care Fieldworker - Central Metro
Suitable for:
Multicultural days
Global event days
Harmony days
Drama projects
Music appreciation
Advanced percussion workshops for music students
Uniting and uplifting students and staff
After school & vacation care
Stress relief
Special needs students
"In Ghana we can use the drum to prepare… to relax, to focus and to refresh the mind. Drumming switches on your brain." Bortier Okoe, Master Drummer, Ghana
African Soul delivers a variety of programmes and workshops for schools individually tailored to suit your specific needs. Our professional facilitators ensure that all participants learn valuable skills such as listening, teamwork and creativity whilst at the same time having fun.
Our facilitators can also talk with students about acceptance and multiculturalism, and discuss the importance of music in our own community, promoting unity and encouraging cultural awareness.
Workshops can include a combination of:
Performance – high energy African drum and dance show
Drumming – everyone gets their own African drum
Dancing – traditional African dance
Movement - fun & physical
Singing – vocal release through African singing and chanting
Call & response – drum rhythms, vocal phrases and basic movement
Cultural discussion
African story telling
Question and answer time