Health Benefits for Kids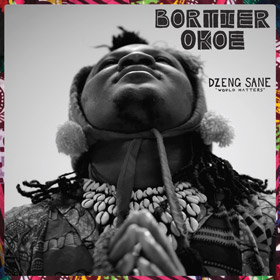 NEW ALBUM
Intricate rhythms blend traditional kpalogo drums, djembe, kora, and balafone with exciting vocals, guitar riffs, and horn lines, creating a new musical force – a sound which connects him with his audiences and inspires even the most reserved listener to get up and dance and sing along.
Click here for more information
Drumming can assist children with:
Learning difficulties and disabilities
Social difficulties and disorders
Behavioural difficulties
Difficulty concentrating or focussing
Learn more about the benefits of drumming
The first sound we heard whilst still in our mother's womb was the beating of her heart, and the rhythm of her breath. No matter our race, gender, age, religion or belief system, this common experience exists for all human beings.
Drumming is an excellent way for children to learn self-awareness, listening skills, cooperation, patience and coordination of breath and movement. It also builds valuable skills for processing and communicating information. Drumming requires focus and creates focus. When children hear the rhythm of the drum, they instinctively respond.
Drumming allows your children to:
Express themselves
Release energy
Be creative
Improve their listening skills
Develop motor skills
Focus inward as well as outward
Develop self-awareness and self-esteem
Develop patience and cooperation