Corporate Events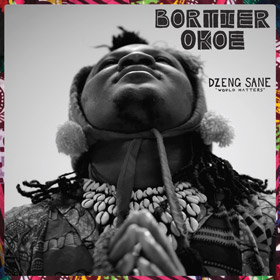 NEW ALBUM
Intricate rhythms blend traditional kpalogo drums, djembe, kora, and balafone with exciting vocals, guitar riffs, and horn lines, creating a new musical force – a sound which connects him with his audiences and inspires even the most reserved listener to get up and dance and sing along.
Click here for more information
Sessions can consist of a combination of the following:
Performance – high energy African drum and dance show
Drumming – everyone gets their own African drum
Movement - fun and physical African dance moves
Singing – vocal release through African singing and chanting
Call and response – drum rhythms, vocal phrases, body percussion and basic movement
African drumming workshops are effective, fun filled sessions designed to develop unity in the workplace; essential in business environments. We can help your company and its employees reduce stress levels and communicate more effectively. Give your staff a break from the daily grind in a stress busting and energising teambuilding workshop or icebreaker. Whether you want a hands on interactive experience or a high energy performance, African Soul can meet your needs.
- Be motivated, energised and inspired
- Learn how to use dynamics for impact
- Build team confidence
- Manage and relieve stress
- Break down barriers
- Unite teams