Year 12 Stress Buster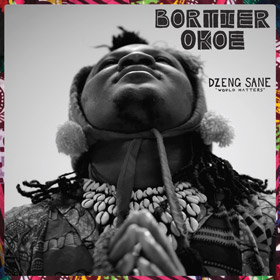 NEW ALBUM
Intricate rhythms blend traditional kpalogo drums, djembe, kora, and balafone with exciting vocals, guitar riffs, and horn lines, creating a new musical force – a sound which connects him with his audiences and inspires even the most reserved listener to get up and dance and sing along.
Click here for more information
"In Ghana we can use the drum to prepare our minds. Students can drum before exams to help them to relax, to focus and to refresh the mind. Drumming switches on your brain."
Bortier Okoe, Master Drummer, Ghana.
Completing year 12 can be a stressful and overwhelming time for students. We offer a special year 12 Stress Buster Workshop to relieve stress and tension, energise students and give them a renewed sense of vitality. This is achieved simply through beating a drum. Drumming is fun and liberating. When people drum they often find it a transforming experience, because it enables them to be free. Drumming makes the body feel good because as the rhythms of the drumming resonate with your own body's rhythms, your body releases endorphins allowing you to experience a natural "high"
Studies show that drumming stimulates both sides of the brain encouraging them to work together as one, resulting in hemispheric synchronisation. Drumming helps you to feel calm and balanced, able to concentrate and focus for longer periods. Drumming also boosts the immune system and helps reduce overall stress and anxiety. Drumming can help you to think smarter.
You can simply book one session before the exam period commences or we can create a special package for you which includes a follow up session for celebration.