Tour to Africa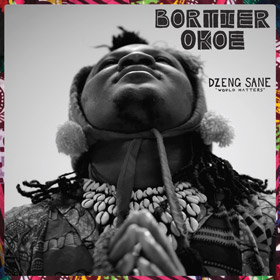 NEW ALBUM
Intricate rhythms blend traditional kpalogo drums, djembe, kora, and balafone with exciting vocals, guitar riffs, and horn lines, creating a new musical force – a sound which connects him with his audiences and inspires even the most reserved listener to get up and dance and sing along.
Click here for more information
TELEMA TOUR TO GHANA
SEPTEMBER 14 - OCTOBER 13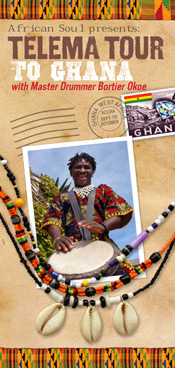 Download Brochure [2.4MB]
YOU ARE INVITED BY BORTIER TO COME ON THE TELEMA TOUR TO GHANA WEST AFRICA
EVERY SEPTEMBER 14 to OCTOBER 13

Join master drummer Bortier Okoe for a once-in-a-life-time Ghanaian experience. Open your heart and immerse yourself in rich and vibrant culture on a four-week intensive cultural tour. You will live in the town of Nungua amongst the community, learn the traditional rhythms, songs and dances and develop your skills under the guidance of Bortier and local drum and dance masters.
Bortier's family will welcome you, share their culture, and cook for you their traditional and delicious food. Take part in live performances specially arranged for you, be entertained by renowned performers, learn to cook favourite Ghanaian food, witness traditional ceremonies, take part in weekend excursions and end your tour with a spectacular performance, showcasing your new skills for the whole community.
Though everyone's experience will be unique, feeling the rhythm of Ghanaian life and the joy of people around you is something everyone can experience on the Telema Tour.
Take home with you many wonderful memories and experiences.
This definitely is a once-in-a-life-time opportunity that will open your heart to the beauty of Africa.
For more info about the Telema Tour to Ghana West Africa please contact us on 0413953855

bortier@africansoul.com.au or visit
Telema tour to Ghana West Africa is an educational that invites people to Ghana to promote cultural exchange and understanding through the music, dance, culture, history and arts. and also people who wanted to develop their music or dance skills.
Our vision is to place people from different life experiences in an environment where they can exchange ideals and find universal connections.